Product Spec:
Max Power: 4000 Watts
Max Current: 95 Amps
Max Volts: 4-13S 
Max Torque:

 9Nm

Motor Resistance: 0.05Ohm

Recommend ESC:VESC4&VESC6(3-13S )
Weight: 1000g
The motor length:84mm
The motor diameter: 63mm
Shaft Diameter 8mm/10mm, 30mm length(8mm ), 25mm length(10mm),3x3x14mm keyway slot.
Motor Wire:  12AWG wire with 4.0mm Gold Bullet Connector Male.customizable 5.5mm gold plated connector

Wire configuration:

Blue = A
Black = B
Yellow = C

Stator: 0.2mm thickness lamination japan steel

Magnet: N42SH high temp curve magnet

BLDC Motor
The number of pole: 14
Sensor Wire: Standard RC Sensor Wire JST-ZH 6pin 1.5mm/2mm pitch
Internal PCB with 120 Degree Hall Effect Sensors.
Motor can be used with or without a sensor. Sensorless operation is most common.
VESC Sensor Wires

 

required to use with VESC.
What's Our Product Feature?
Stator: Lamination Japan steel
12awg high strand silicone wire with 4.0mm gold bullet connectors.
Both support sensor and sensorless mode! 
The 6384 motor 8mm shaft come with 8mm motor pulley is 20mm width, 10mm shaft come with 10mm motor pulley is 17mm width:

8mm shaft diagram: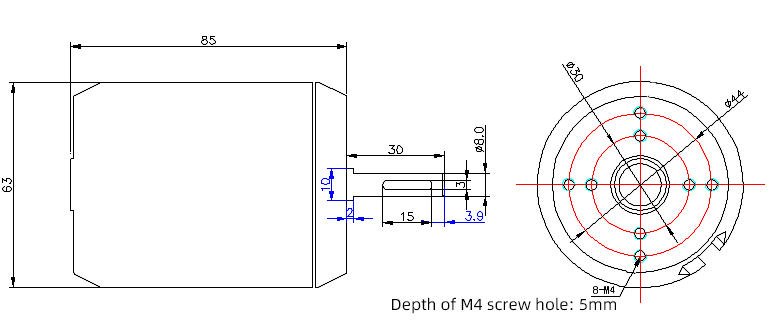 10mm shaft diagram: