---
Spec:
Max power : 1300W
Motor KV:200KV
Max Current: 36A
Voltage:3-12S
Rated torque:0.6N.M
Max torque : 1.1N.M
Internal resistance: 115mΩ
Motor structure: 12N/14P
Diameter *Length (mm): 50*48
Shaft (mm): 8mm D-shaft
Bullet Connector: MT30
Sensor: Yes

5048 Motor Drawing:



Warm tips:
It is recommended to keep firmware 5.2 from factory ship, the new firmware upgrade may damage the ESC.
Specs:

Firmware: Latest Version
Continuous current: 100A; instantaneous current: 200A
Voltage: 14V-60V(Cells: 4-13S; safe for 4S to 12S, voltage spikes may not exceed 60V! )
BEC: 5V@1A
ERPM: 150000
Control Interface Ports:USB,CAN,UART
Supported Sensors:ABI,HALL,AS5047,AS5048A
Input Set Support:PPM, ADC, NRF, UART, SPI, IIC
Modes:DC, BLDC, FOC (sinusoidal)
Regenerative capacity: Yes
Programmable: Yes
Motor wire: 10AWG
Power cable:8AWG
Size:75.4x63.7x31.1mm(Including heatsink)
Feature:
Support four control modes: Current/Dutycycle/Speed /Position control mode.
Using 6pcs SFT01N10T high current MOSETS (100V 500A).
Protection functions: low voltage protection, high voltage protection, over-current protection, temperature abnormally protection, mosfets over-temperature protection.
Support the function of balancing car by connecting the IMU module through the IIC interface; support inertial measurement unit modules such as MPU9250, MPU9150, MPU6050, LSM6DS3, BMI160.
Wiring diagram: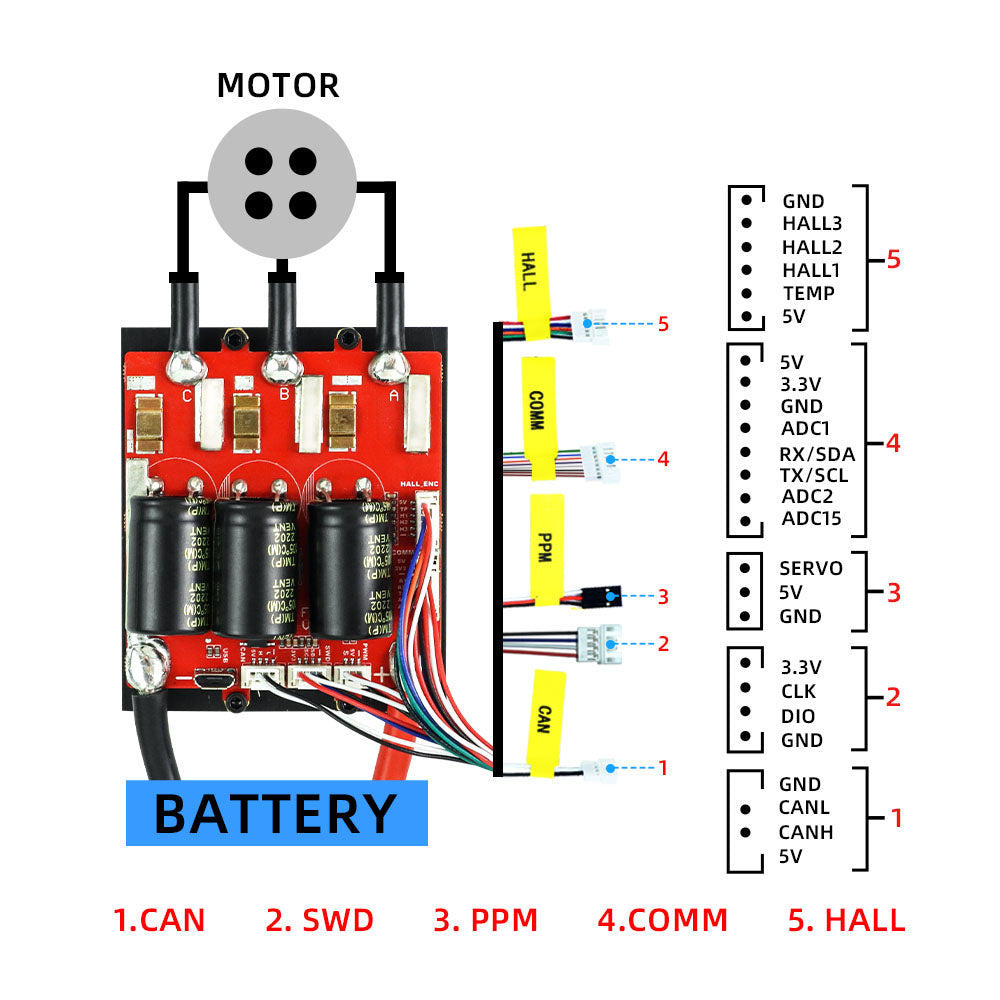 Warm tips:
It is recommended to keep firmware 5.2 from factory ship, the new firmware upgrade may damage the ESC.
Spec:
Voltage:14-84V( safe for 3-20S)
Continuous Current : 50V/300A,75V/200A
Max Current :350A
Supported sensors: ABI, HALL, AS5047,AS5048A

EPRM:150000
Size:178*100*45mm((Including the height of water pipes and electrolytic capacitors)
Feature:

Regenerative braking
The CPU adopts the 32F405 with the main frequency of 168MHz and the Cortex-M4 architecture with DSP function;
Sensored or sensorless operation + hybrid mode
Configurable RPM-, current-, voltage- and power limits
Input source: PPM, ADC, NRF,UART,PAS
Communication ports: USB, CAN, UART,SPI,IIC
Throttle curve and ramping for all input sources
Seamless 4-quadrant operation
Motor revolution, ampere hour, watt hour counting

Real-time data analysis and readout through the communication port.

Adjustable protection against:
Low input voltage
High input voltage
High motor current
High input current
High regenerative braking current (separate limits for the motor and the input)
High RPM (separate limits for each direction)
Digital VCC and analog VCC are produced by different voltage regulators respectively to make the system AD conversion more accurate
Motor wire: 8AWG
Power cable: 8AWG

Waterproof level(with water cooling enclosure):IP67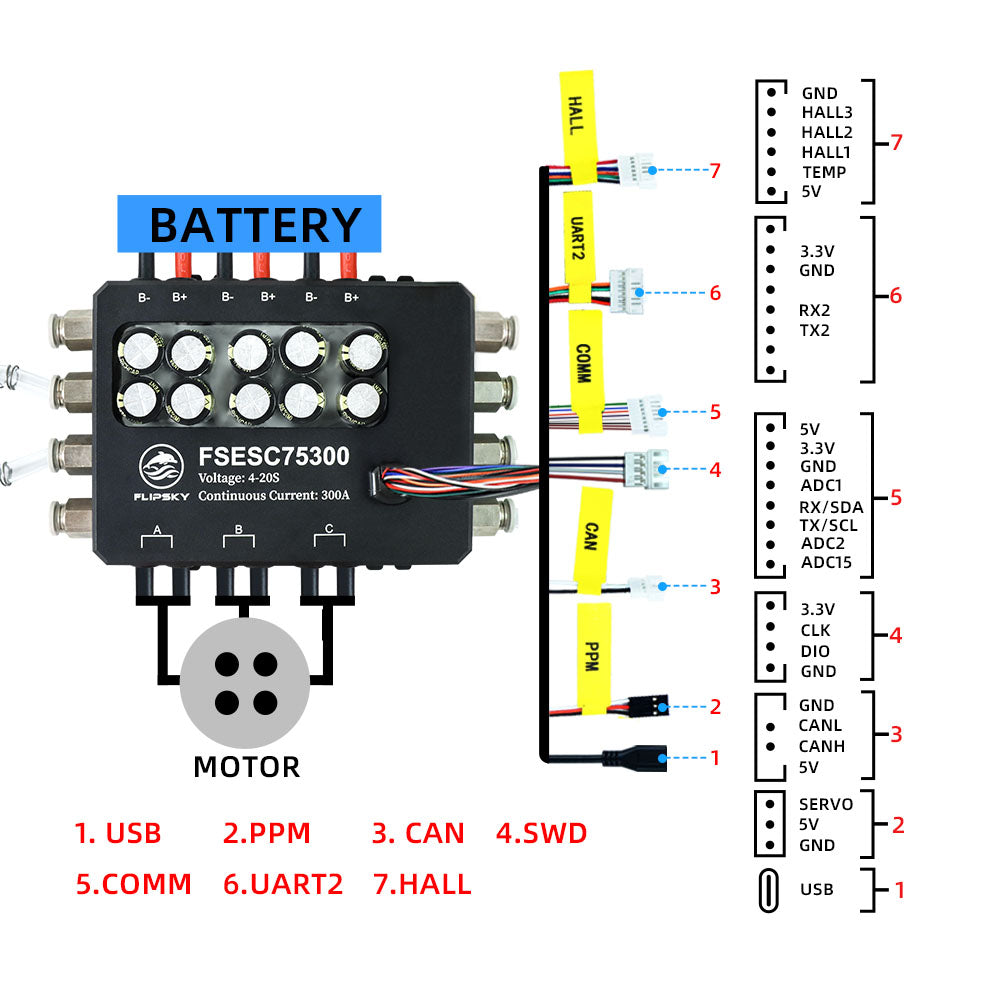 Please use 5V/2A charger for VX1 Pro (Max. Input voltage of 6.5VDC for VX1 Pro). Do NOT use a charger with an output voltage more than 6.5V, otherwise the VX1 Pro remote controller may be damaged.
Features:
Using 2.4G wireless module-E28-2G4M12S, low power consumption, strong anti-interference ability, long remote control distance
Support 3 speed modes (high gear: red light; middle gear: yellow light; low gear: green light)
Support cruise control mode
Remote control and skateboard battery indicator light
Comfort touch: ABS+Rubber painting surface
Support reverse function
Rechargeable Li-ion Battery (850mAh)
Anti-slip wrist strap
VX1 Remote comes with Receiver 
Kindly Reminder !
1.Please carefully check following receiver connection diagram corresponding with different FSESC, wrong cable collection in reciver side will cause the receiver burned.

2. The variants (for VESC4/ for VESC6 / For Non VESC) only differenciate on reciver cables , the remote is the same one.
What are the differences between VX1 and VX1 pro?
Receiver Connection Diagram:
For PPM mode(or Non VESC )
For Dual FSESC4.20 Plus:
For Dual FSESC6.6:
Transmitter specs:
Number of channels:100
Number of channel groups:1 and 2
Frequency range:550MHz-590MHz ,antenna 1/4 wavelength
Audio output level-10dB.
Headphone output level 87mW(32 Ohms)
Receiving sensitivity-95 dB
Signal-to-noise ratio≥90 dB,sound delay 1ms.
Frequency response 40Hz-18kHz(+/-3dB)
Reference deviation ±5kHz(-60dBV,input 1kHz)
Distortion ≤0.5
Battery type: Lithium battery
Working temperature 0°C-50°C
Storage temperature-20°C-55°C
Receiver specs:
Number of channels: 50
Numberof channels group:2
Frequency range :550MHz-590MHz,SNR

≥90dB

Spurious suppression-60dB

Transmission power 40mW,sound delay 1ms,antenna 1/4 wavelength.

Reference deviation ±5kHz(-60dBV,input 1kHz)

Distortion ≤0.5

Reference audio input level-40dB(Microphone input, 0dB attenuation)

Battery type: Lithium battery
Working temperature 0°C-50°C
Storage temperature-20°C-55°C
Features:

1.Supports two-to-one streaming.Includes intelligent noise reduction.Wireless transmission distance within 100 meters.No delay and anti-interference.
2.Two-to-one: record the voices of 2 people at the same time. Supportsthe use of multiple units in the same location.
3. One-to-one: 1transmitter,1 receiver for use with mobile phone anytime,anywhere.
4.Wind screen included. Built for use outdoors,wind resistant,vibration resistant,effective noise reduction.
5.Come with a built in noise reduction microphone. Also supports use of an external microphone.
6.Support stereo or mono recording modes.
7. Real time monitoring and dection of microphone recording conditions.
8.Built in earphone monitoring funtion.
Video: