DUAL ESC CAN BUS CONNECTOR
Used to connect (2) FLIPSKY ESC units together. 
Compatible with VESC®.
Cable length: 250mm
---
Please use 5V/2A charger for VX1 Pro (Max. Input voltage of 6.5VDC for VX1 Pro). Do NOT use a charger with an output voltage more than 6.5V, otherwise the VX1 Pro remote controller may be damaged.
Features:
Using 2.4G wireless module-E28-2G4M12S, low power consumption, strong anti-interference ability, long remote control distance
Support 3 speed modes (high gear: red light; middle gear: yellow light; low gear: green light)
Support cruise control mode
Remote control and skateboard battery indicator light
Comfort touch: ABS+Rubber painting surface
Support reverse function
Rechargeable Li-ion Battery (850mAh)
Anti-slip wrist strap
VX1 Remote comes with Receiver 
Kindly Reminder !
1.Please carefully check following receiver connection diagram corresponding with different FSESC, wrong cable collection in reciver side will cause the receiver burned.

2. The variants (for VESC4/ for VESC6 / For Non VESC) only differenciate on reciver cables , the remote is the same one.
What are the differences between VX1 and VX1 pro?
Receiver Connection Diagram:
For PPM mode(or Non VESC )
For Dual FSESC4.20 Plus:
For Dual FSESC6.6:
Transmitter specs:
Number of channels:100
Number of channel groups:1 and 2
Frequency range:550MHz-590MHz ,antenna 1/4 wavelength
Audio output level-10dB.
Headphone output level 87mW(32 Ohms)
Receiving sensitivity-95 dB
Signal-to-noise ratio≥90 dB,sound delay 1ms.
Frequency response 40Hz-18kHz(+/-3dB)
Reference deviation ±5kHz(-60dBV,input 1kHz)
Distortion ≤0.5
Battery type: Lithium battery
Working temperature 0°C-50°C
Storage temperature-20°C-55°C
Receiver specs:
Number of channels: 50
Numberof channels group:2
Frequency range :550MHz-590MHz,SNR

≥90dB

Spurious suppression-60dB

Transmission power 40mW,sound delay 1ms,antenna 1/4 wavelength.

Reference deviation ±5kHz(-60dBV,input 1kHz)

Distortion ≤0.5

Reference audio input level-40dB(Microphone input, 0dB attenuation)

Battery type: Lithium battery
Working temperature 0°C-50°C
Storage temperature-20°C-55°C
Features:

1.Supports two-to-one streaming.Includes intelligent noise reduction.Wireless transmission distance within 100 meters.No delay and anti-interference.
2.Two-to-one: record the voices of 2 people at the same time. Supportsthe use of multiple units in the same location.
3. One-to-one: 1transmitter,1 receiver for use with mobile phone anytime,anywhere.
4.Wind screen included. Built for use outdoors,wind resistant,vibration resistant,effective noise reduction.
5.Come with a built in noise reduction microphone. Also supports use of an external microphone.
6.Support stereo or mono recording modes.
7. Real time monitoring and dection of microphone recording conditions.
8.Built in earphone monitoring funtion.
Video:
Spec:
Hardware: V2.2
Max voltage: 12S (50.4V)
Continuous Current: 60A , Max Current: 120A
Burst current: 800A(theoretical current)
Mosfets: NVMFS5C628NLs
LED button diameter:12mm, cable length: 250mm
PCB thickness:4 layers*3oz copper=12oz copper
PCB size: 40mm*32m
Wire:12AWG
Enhanced Features:
High Side Switching -> Much safer to use with multiple ESCs and other devices.
In-rush current limiting.

RC delay network restricts inrush current to safe levels.
dV/dt is ~100V/s (This is considered VERY slow for power electronics. Fast would be 50,000,000V/s). At 6,000 uF output capacitance, this is an inrush current of 600mA.

Smart Power on/off

Roll-to-start. Has 12 second blanking timer after turn off. Can still be turned on by switch during this period.
Auto-turn-off. Will turn off automatically after 20 minutes. The output voltage must vary by at least 500mV within any three second interval to reset the turn-off timer.
Support momentary push button. Hold for 0.3s to turn on, 1s to turn off. Holding it down will cycle it on then off.

High power, 150A Continuous.
Very low idle power draw, ~300uA, will last months on battery.
1.Preventing a small spark may cause explosions in some spark-sensitive areas.
2. Add copper bars for better heat dissipation and over-current flow.
3.Anodized aluminum Heatsink with lots of notches for better heat dissipation.
4.Add silicon glue to fix the LED button cable with the heat shrink.
Warnings:
Do not peel off the heat shrink.There's no screw to lock the heatsink and PCBA. Only the heat-transfer silicon pad is naturally sticky to heatsink and PCBA.
No short circuit protection, DO NOT short circuit output!
No reverse polarity protection. DO NOT plug in backwards.
Recommended to keep output capacitance under 6,000 uF. Proper operation cannot be guaranteed at higher capacitances.
Do not Hot-Swap. Try to make sure everything is off before connecting and removing. If need be, unplug from battery first, wait for ESCs to turn off, then unplug ESCs. Do the reverse for plugging in, plug in ESCs first before plugging the switch into the battery.
Engineers have thoroughly tested prototypes; however, this is still a new design and a first production run, please exercise extreme caution (as one would normally do with any electric vehicle) when using this device.
Do not attempt to reprogram the MCU unless otherwise advised. Doing so will void any warranty and also put the switch at great risk of failure.
 Wiring diagram: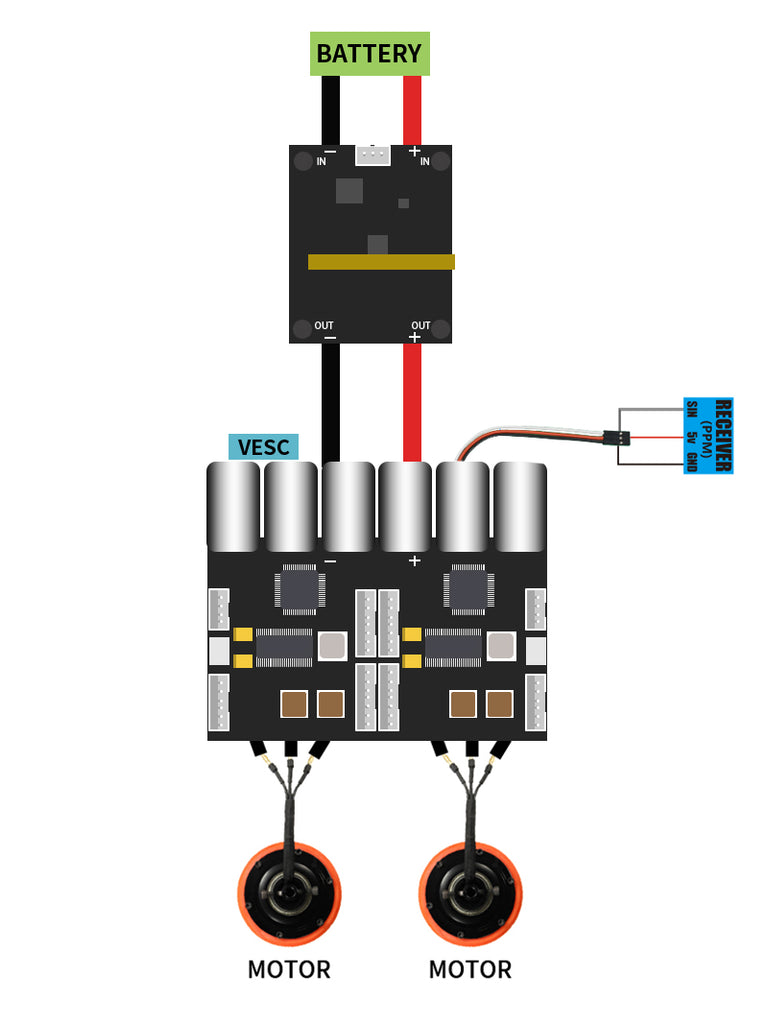 Spec:
Axle Diameter: 8/10mm

Material: Aluminum Alloy

Color: Black
The detail size of 63 Series motor mount(

Axle Diameter:10mm),Suitable for 6354/6374/6384 motors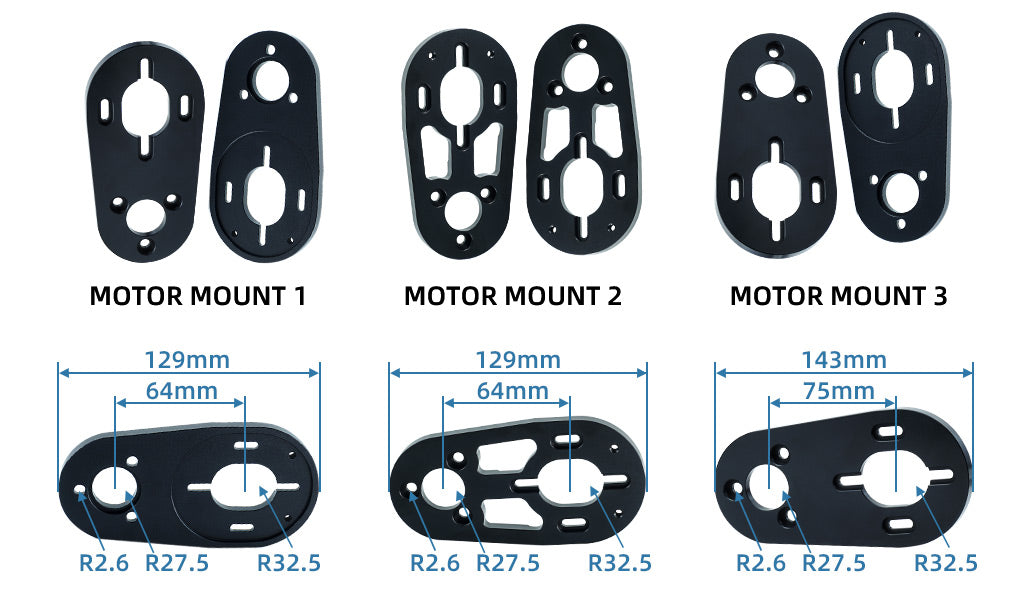 The detail size of 50 Series motor mount(Axle Diameter: 8MM):

(Suitable for H5045/H5055/H5045/H6368 motors,not suitable for 5065 270KV motor )

Package included:
2pcs motor mount