How to mount 8mm bearing wheels to 10mm shaft 15.22" Double Kingpin Trucks?
It is necessary to change the bearings of the wheels sometimes, because not all trucks and wheels are perfectly matched. Today, we will take 6 "ATM off road wheels and 15" DKP trucks as an example to teach you how to change the wheel bearings 8mm-10mm and installation by using the simplest and quickest way. There's no need to buy any other special tools.
To start, protagonists appear:
Length 15.22" , shaft 10mm
Stand over 150kg weight
Aluminum hardness reached out HRB65 around .
Size:6'' ATM 150x50mm
Tire Width: 2''
Axle diameter:1/2"
Loading Capacity:120KG
Wheel bearing:608
Pulley Teeth: 60T
Belt:335mm,15mm Width
Bearing diameter: 8mm
Step 1:Disassemble the wheels
Step2:Use a hammer to get the 8mmbearings down carefully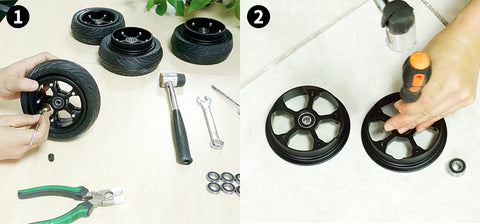 Step3:Change the bearings 8mm to 10mm
Step4:Use a hammer to get the 10mm bearings in the wheels carefully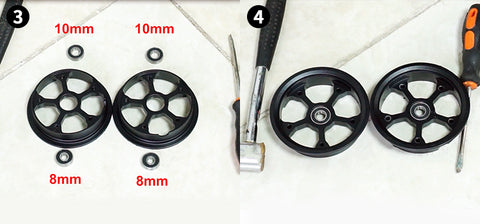 Step5:Assemble wheels with 10mm bearings
Step6:Wheel with 10mm finished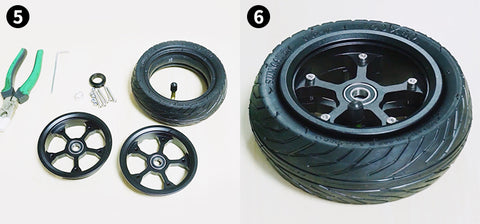 Step7:Mount the 6" ATM off road wheels to 15.22" DKP trucks
Step8:Tighten the screws
Step9:Assemble completed
Tips:
1.If you use the custom 15.22" DKP, two shaft sleeves are needed to be added in the two sides of the front wheels.
2.Be careful to avoid damaging the accessories!
3.See more detailed tutorial video here:https://bit.ly/3uMd8w3
---