Spec:
Belt: 270mm
Bearing: 6900RS
Material:Plastic
Drawing :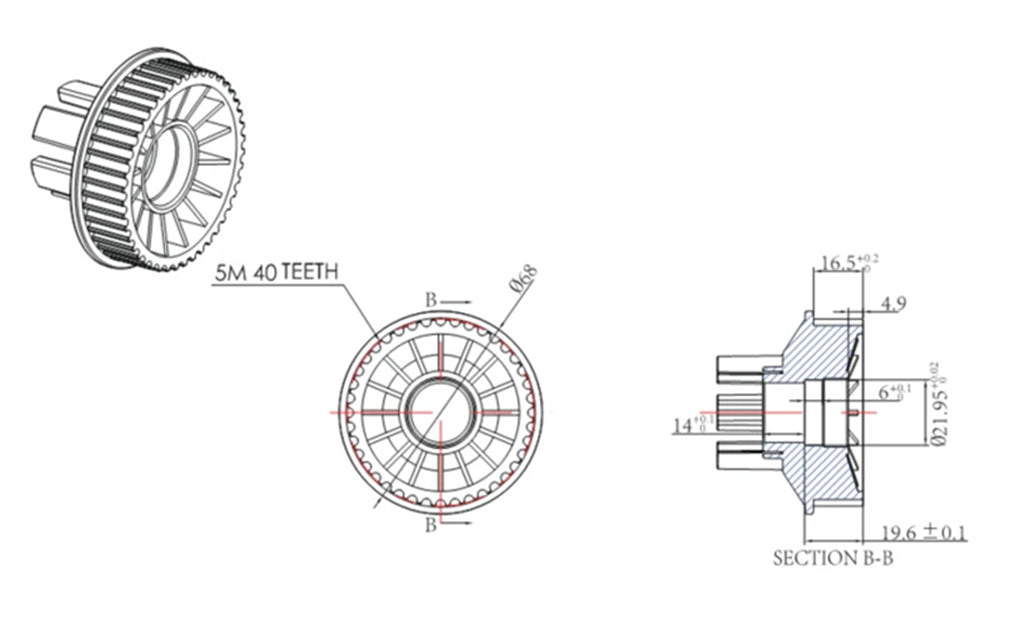 ---
Spec:
Hardware: V1.0
Max voltage: 20S (90V,safe for 80V)
Continuous Current: 150A , Max Current: 300A
LED button diameter:12mm
Aluminum pcb Features:
MOS fets: use 10*10 large package MOS , with better overcurrent and heat dissipation performance
Control mode: lock key control switch mode; press the lock button to lock it to open, and the LED light will light up at the same time, press the lock button again to bounce it to turn off, and the LED light turn off at the same time.
The function of the product: the aluminum substrate fire-proof spark switch efficiently and safely protects the power contacts from being burnt and oxidized by the electric spark, effectively protecting the electronic components of the integrated circuit from breakdown and damage, preventing the occurrence of electric sparks that may cause an explosion, and more effectively extending the electronics Product life.
Aluminum base plate has better heat dissipation performance. It is more convenient to add a larger heat sink for continuous large current output. The heat sink and the heat sink are connected with thermally conductive silicone grease, which has a better heat conduction effect.
Warnings:
Do not peel off the heat shrink.There's no screw to lock the heatsink and PCBA, Only the heat-transfer silicon pad is naturally sticky to heatsink and PCBA.
No short circuit protection, DO NOT short circuit output!
No reverse polarity protection. DO NOT plug in backwards.
Recommended to keep output capacitance under 6,000 uF. Proper operation cannot be guaranteed at higher capacitances.
Do not Hot-Swap. Try to make sure everything is off before connecting and removing. If need be, unplug from battery first, wait for ESCs to turn off, then unplug ESCs. Do the reverse for plugging in, plug in ESCs first before plugging the switch into the battery.
Engineers have thoroughly tested prototypes; however, this is still a new design and a first production run, please exercise extreme caution (as one would normally do with any electric vehicle) when using this device.
Do not attempt to reprogram the MCU unless otherwise advised. Doing so will void any warranty and also put the switch at great risk of failure.
 Wiring diagram: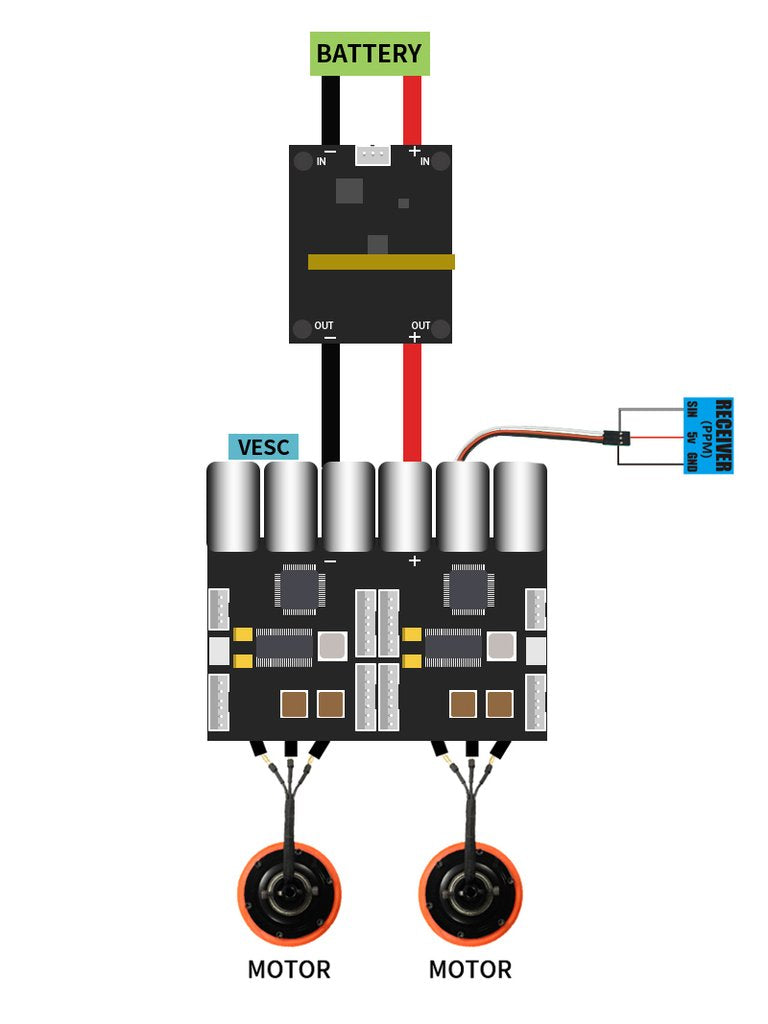 Remark:
1.all these parts in the kit are unassembled when shipment.
2.this All Terrain kit come without motors, it can suitable for flipsky 63 series Motors,recommend motor:6384/6374 etc .
Truck:
Truck Length: 420mm / 16.5''

Axle Length: 60MM / 2.4''

Axle Diameter: 10MM
Others:
hub material: Aluminium Alloy
Tyre Material: Rubber
Axle Hole Size:10 mm
Tyre Pressure: 60PSI 410kpa
HUB Axle Diameter: 10 mm
HUB Teeth: 72 teeth
Pulley teeth:16T HTD5M
Gear ratio:  72:16
Belt:435 mm length,15mm width
Detail size: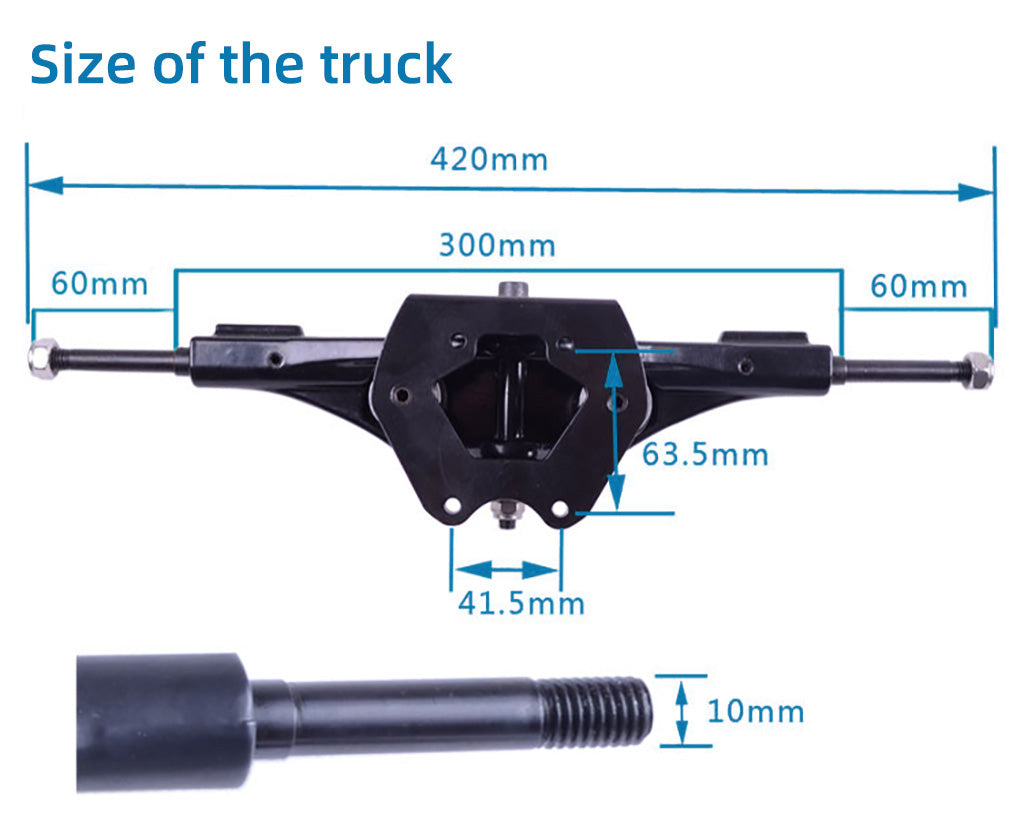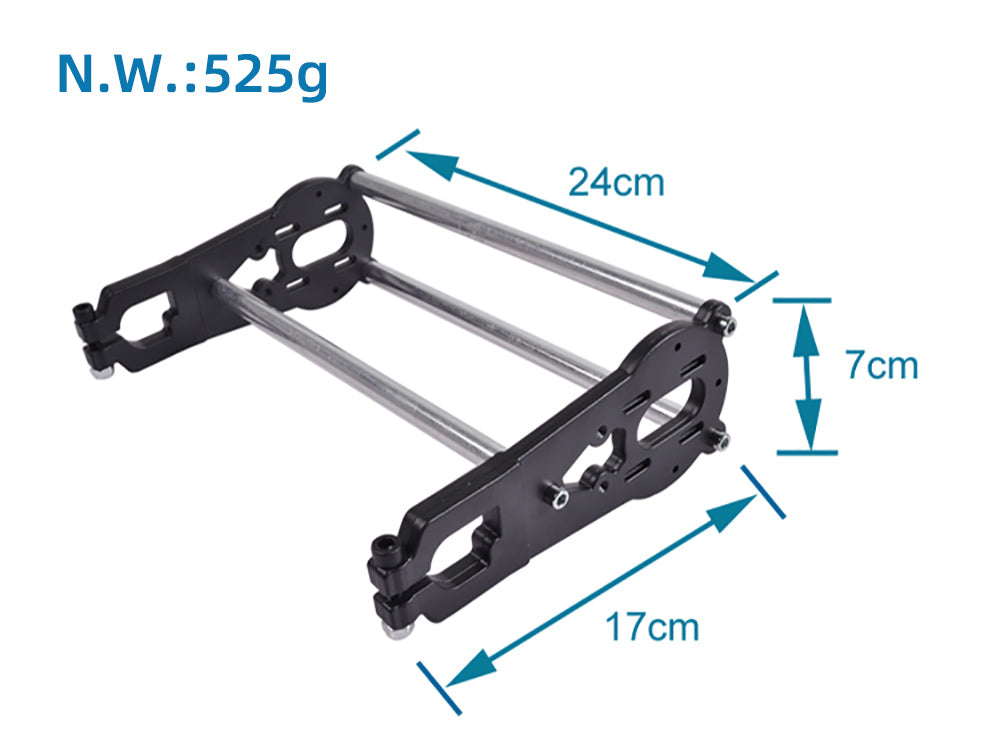 Features:
Max Speed: 35 KM/H( 21.7 MPH)
Deck : 8 Layers Maple
Charging Time : 4-5h
Battery: Samsung 6.0Ah
Voltage: 42V
Motor Power: 600W*2
Wheels: 90*54mm PU Wheels
Hill Climbing: 15-20%
N.W.:7.4KG
G.W.: 9.7KG
Range: 20-25KM (Average speed) 15-18KM(High speed)
Max load :

280 pounds (150 kg), recommending riding weight is 264 pounds(120 kg) and below

Remote: Smart LCD remote with 4 speed modes
Size : 37.4"*10.6"*5.1"( 950*270 *130mm )
The advantages of  Flipsky F1 Electric Skateboard :
Samsung battery: brand battery with small internal resistance, large discharge capacity and low heat generation, which is reliable and durable performance.
Smart slide/roll to turn on start; auto-turnoff after 5 minutes no work .
Good stability: 8 layers of maple deck used, which has good elasticity and break-resistant. The perfect combination of trucks and 90mm PU wheels creates a comfortable sliding experience.
Smart LCD remote controller: speed, battery, and range etc, visible to see all the data you need.
The 4 speeds of the remote control are available for users to choose: high, medium and low, and the sports gear accelerates and reacts faster .
About shipping:
Free shipping of this product 

By air it takes about 10-18days arrival ;by sea it takes about 25-60 days arrival .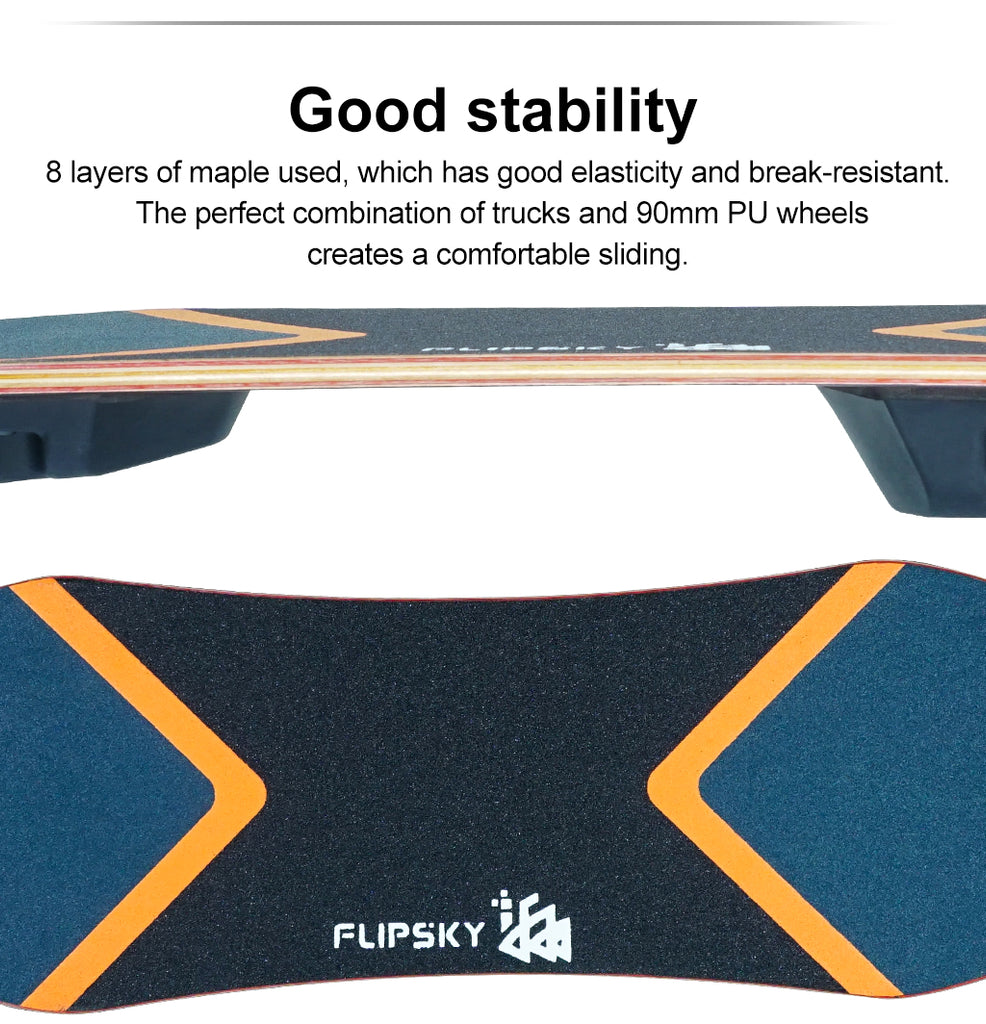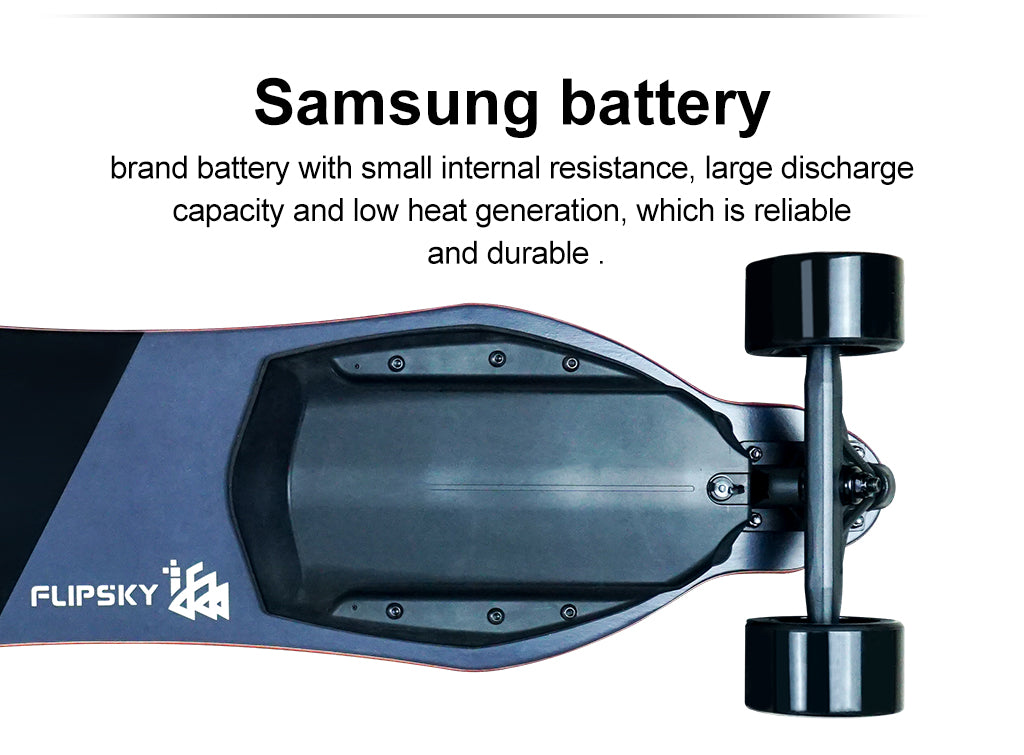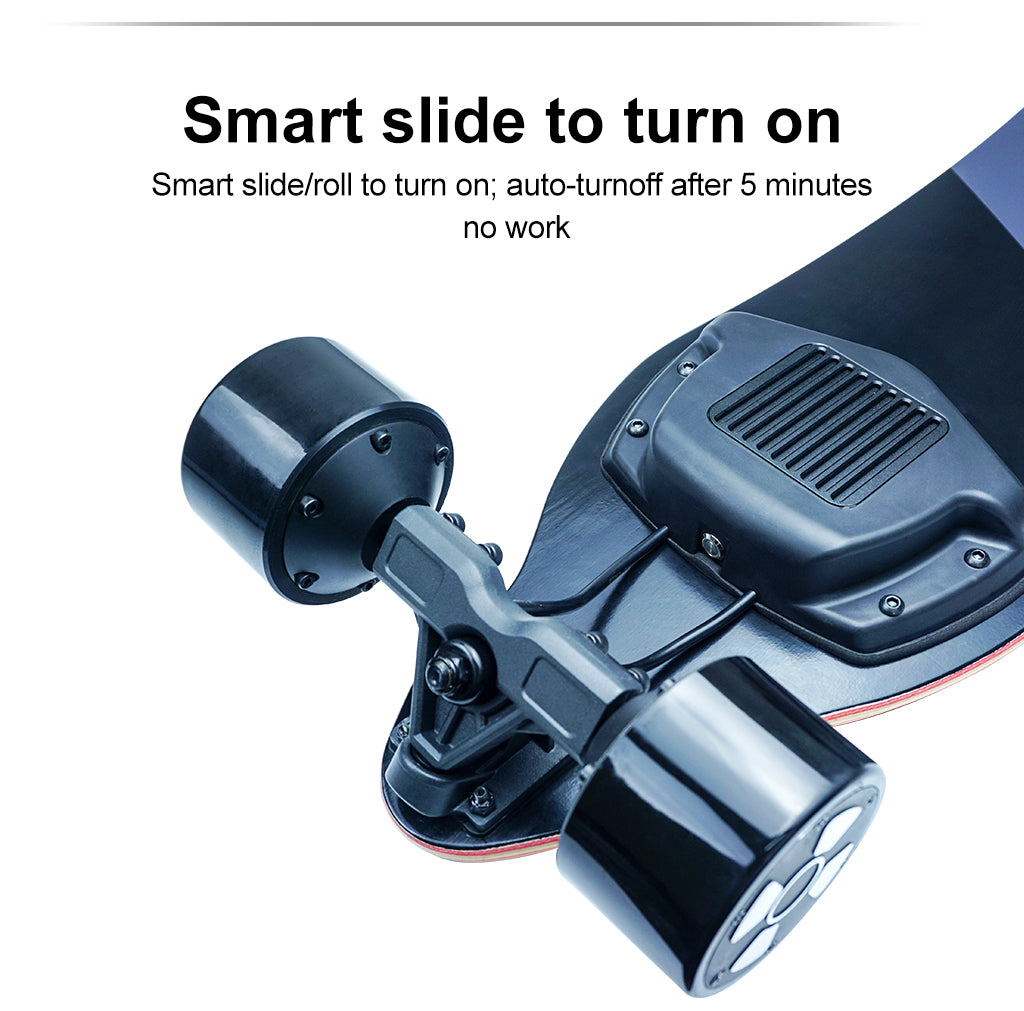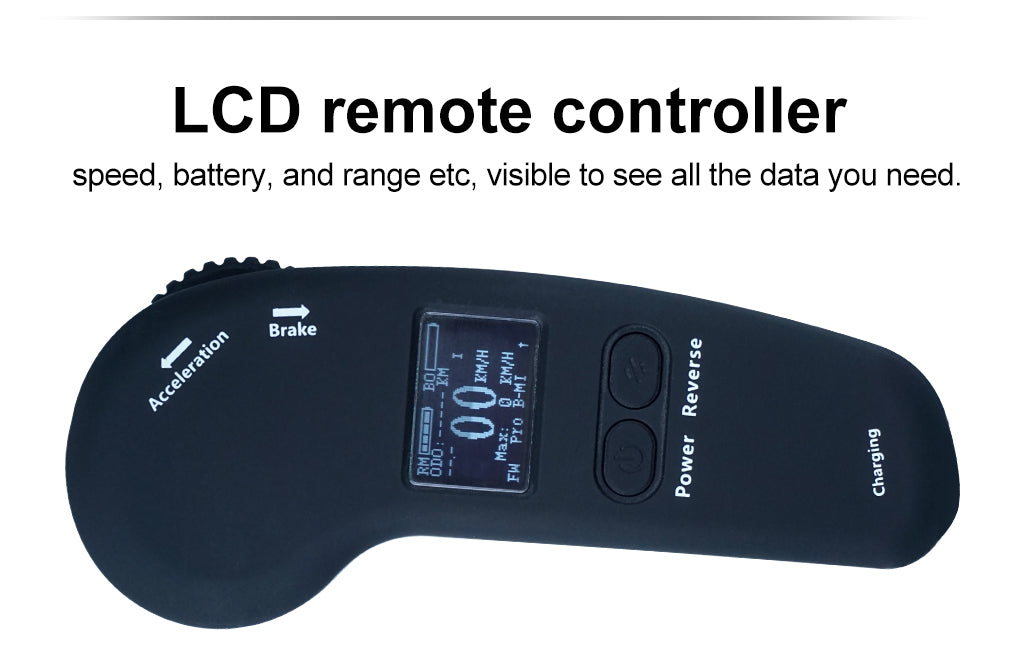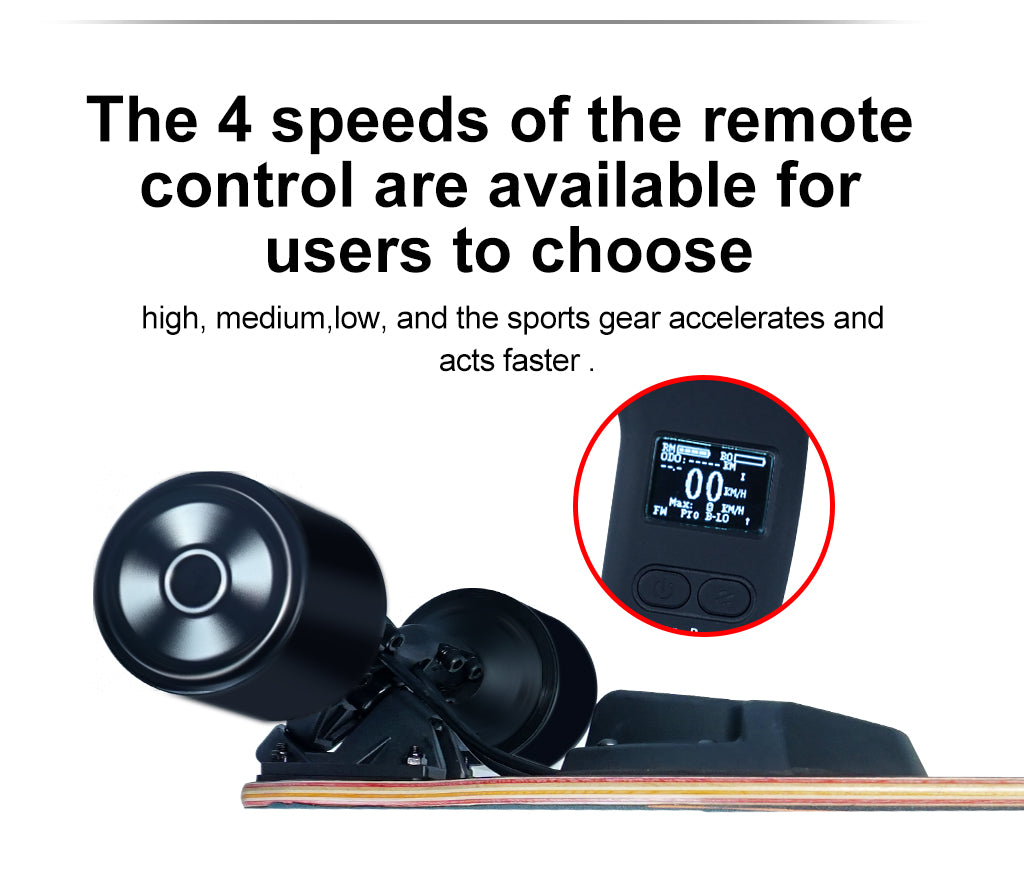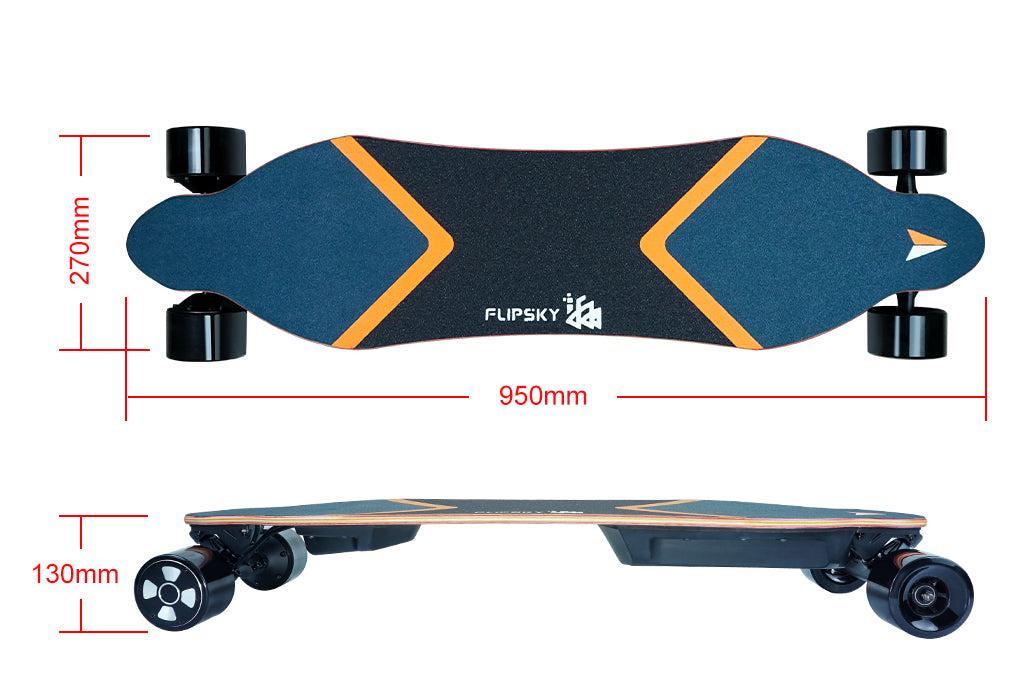 Reference video:
Spec:
Voltage 14-75V (3-16S safety)
Size :78mm×59mm×32.5mm
Current:continuous current 50A,Instantaneous current: 160A
Support sensors: ABI, HALL, AS5047, AS5048A
EPRM: 150000
Regenerative braking;
Input source: PPM, analog, NRF NYKO KAMA NUNCHUCK;
Communication ports: USB, CAN, UART;
Motor wire: 12 AWG
Power cable: 12 AWG
Feature:
Support BLDC square wave mode control and FOC sine wave mode
High current 75V Infineon mosfets in 6 Directfet packages;

Three high-power, high-precision copper current sampling resistors are used to directly measure the three phases current to achieve FOC control and overcurrent protection;
Use TI's UCC272XX series of high-current output gate drivers to drive 6 MOSFETS;
Use three 470UF withstand voltage 100V electrolytic capacitors to ensure the stability of the system under high current drive;
Support with Hall, without Hall, with sensor, and without sensor;
Throttle curves and slopes of all input sources, seamless four-limit operation, count of motor revolutions, ampere-hours, watt-hours, real-time data analysis and readout through the communication port;
The digital VCC and analog VCC are generated by different voltage regulators, which makes the system's AD conversion more accurate;
With the host computer tool software, it can automatically measure the winding resistance, inductance, flux linkage, and also measure the number of pole pairs and other parameters for the motor with sensors;
Adjustable protection measures: low input voltage/high input voltage/large motor current/high input current/over-temperature protection (MOSFET and motor);
High regenerative braking current (separate limit for motor and input), high RPM (different limit for each direction), nearly one hundred setting parameters can be changed through the USB port using the host computer software VESC_TOOL and kept in the ESC;
Wiring Diagram :

Reference Video:
Dual FSESC6.6 Plus(Pro swtich) based on Dual FSESC6.6 
Upgraded features:
Pro switch version:

Power on/off by pressing the button

Added Can bus connector, be more convenient for 4WD set up
Changed the USB port soldering process to SMT soldering instead of manual soldering
Changed the big capacitors to SMT mounting capacitors ,and add more mosfets in the bottom side.
Spec:
- Hardware: V 6.6
- Firmware: Latest firmware version
- Voltage: 8V - 60V (Safe for 3S to 12S LiPo) for the dual ESC
- Voltage spikes may not exceed 60V
- Current: Continuous 100A single, total 200A ,  Instantaneous current 400A per single, total 800A for system instantaneous current. values depend on the mounting  and ambient temperature around the device!
- 5V 1.5A output for external electronics for single
- 3.3V 1A output for external electronics for single
- Modes: DC, BLDC, FOC (sinusoidal)
- Supported sensors: ABI, HALL, AS5047
-ERPM:150000
-Size: 78x78x20mm including heatsink 
-Motor wire: 12AWG
-Power cable:8AWG
-Recommend bullet connectors: 4MM Bullet Connector
Reminder: Detected battery voltage
tolerance:
+/-0.6V 
The shipping package contains:
1*Dual FSESC6.6+Heatsink
2*VESC Sensor Wires
1*LED button 
1*Micro USB
1*Manual
Other detail spec is the same with Dual FSESC6.6, you can get more information by here:
https://flipsky.net/collections/electronic-products/products/fs-esc-6-6
Set Up diagram
Set up for 4WD 
Programming Tutorial Reference (VESC tool 1.16)
Big Size Dual FSESC6.6 Based upon VESC6 with Aluminum Heatsink
Advanced Features
Dual ESC can reach continuous 200A big current, give your board strong power
One PCBA board integrate two FSESC6 's function by internal CAN BUS circuit connection.
The mater and slave board connection can be switched On/Off
Preserve Bluetooth module and RF module connections for both master and slave board
Aluminum anodized Heat sink with fins design for better heat dissipation
size with heatsink: 128.5x91x21mm (L*W*D)
PCB layers: 8layers, thickness: 3oz/layer, total 24 oz thickness
Spec:
Hardware: V 6.6
Eprm:150000
Firmware:

Latest firmware version

Voltage: 8V - 60V (Safe for 3S to 12S LiPo) for the dual ESC
Voltage spikes may not exceed 60V
Current: Continuous 100A single, total 200A ,  Instantaneous current 400A per single, total 800A for system instantaneous current. 

values depend on the mounting  and ambient temperature around the device!

5V 1.5A output for external electronics for single
3.3V 1A output for external electronics for single
Modes: DC, BLDC, FOC (sinusoidal)
Supported sensors: ABI, HALL, AS5047
6 shunts in dual system. Each is measurable for the current.
Recommend bullet connectors: 5.5mm Special Banana Connectors
Motor wire: 10AWG
Power cable: 8AWG
Reminder: 1. Detected battery voltage tolerance: +/-0.6V   
                   2. This version doens't support setup for 4WD.
                  If you want to set up 4WD, get the dual fsesc6.6 plus based on vesc
 The shipping package contains:
1*Dual FSESC6.6+Heatsink
2*VESC Sensor Wires
1*Micro USB
1*Manual
Details for Big Size Dual FSESC6.6
Wiring diagram:
Big Size one: 
 Other Features:
Regenerative braking
Traction control (single and dual settings)
Sensor or sensorless operation
Configurable RPM, Current, Voltage and Power Limits
Input source: PPM, simulation, NRF Nyko Kama Nunchuck
Communication ports: USB, CAN, UART, NRF, Bluetooth
Throttle curves and ramps for all input sources
Separate acceleration and brake throttle curves
Motor speed, ampere hours, watt hour count,Instant data analysis and reading via communication port
Voltage and current protection setting for Motor and ESC 
 Manual download:DUAL_FSESC6.6__100A_MANUAL_20181106.pdf.pdf
Programming Tutorial :
VESC Tool: vesc_0.95, download from  https://www.vesc-project.com/vesc_tool