Spec:
Belt: 270mm
Bearing: 6900RS
Material:Plastic
Drawing :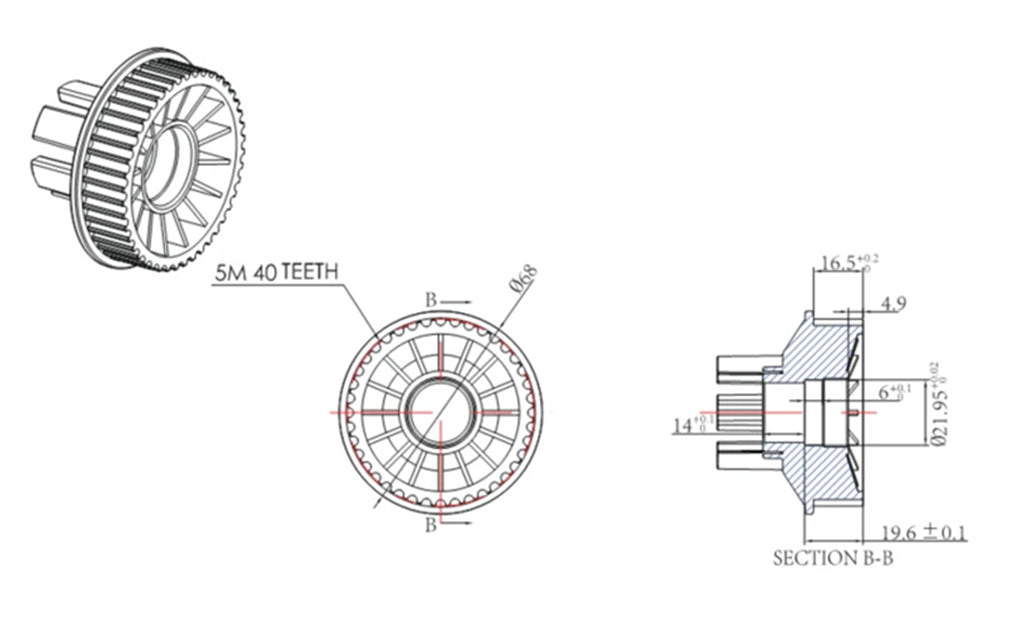 ---
Spec:
Hardware Version:ODESC3.6 Dual Drive
PCB layer Number:4 layer
Applicable Voltage:8-56V
Current Parameter:50A continuous/120A peak
Support Encoder:Incremental Encoder, Absolute Encoder, Houle Sensor, AMT102, AMT103, TLB5012, AS5047
Communication Interface:USB-Protocol Open Source (PC, Raspberry Pie, Ros) , UART (Embedded Devices) , PWM (RC Remote) ,STEP/DIRECTION(PLC)、GPIO、CAN、ANALOG INPUT
Voltage Protection:Programmable Voltage Protection to Prevent Excessive Battery Discharge
Movement Pattern:Speed Mode, Torque Mode, Current Mode, Position Mode, Trajectory Mode, etc.
Feature:
ODESC high-performance brushless drive is based on the open source project ODrive for hardware optimization and enhancement, stable performance and matching the original firmware of Odriver. The supporting USB connection to the PC terminal can realize motor debugging and complex multi-axis control. And it can realize FOC control for most brushless motors on the market.With the use of encoders, it can also achieve arbitrary torque, speed loop, position loop, current loop, and position control based on trajectory planning etc. It can be widely used in joint flexible robots, robotic arms, 3D printing, camera gimbals, Gimbal slide, CNC milling machine, ship model, car model and other DIY industrial and automation fields.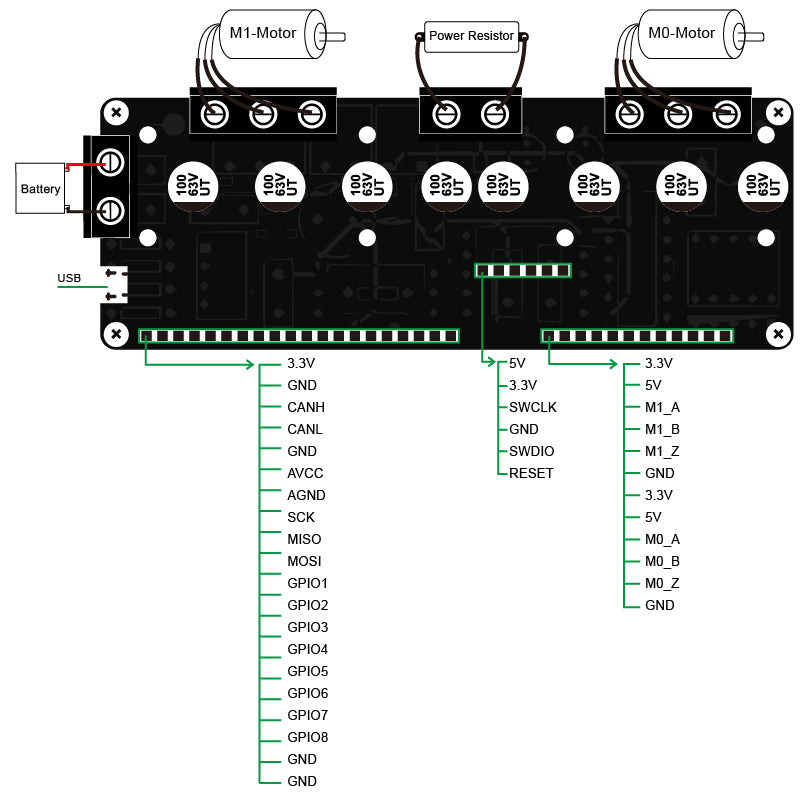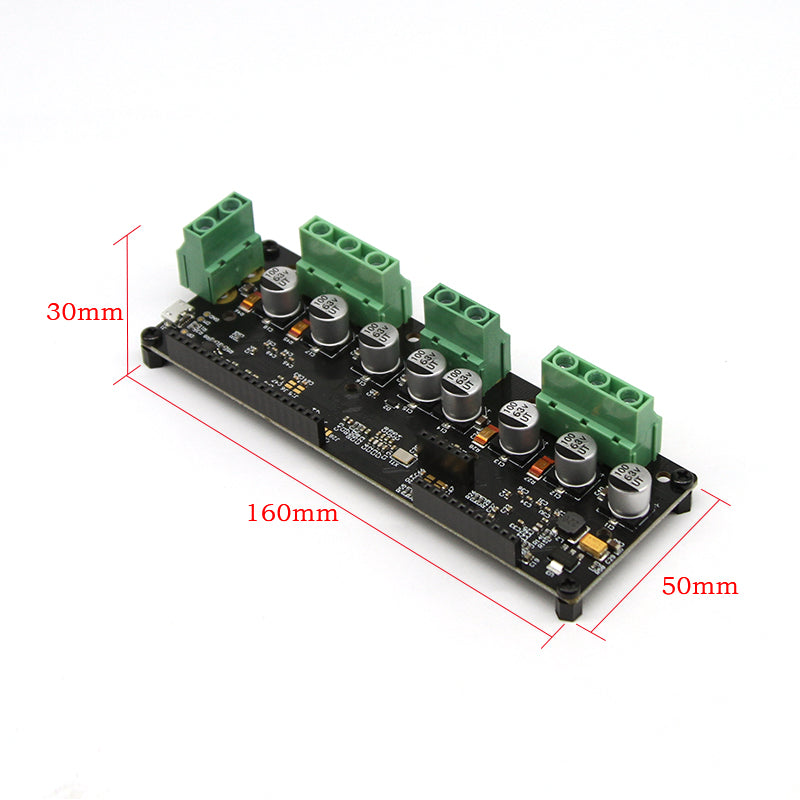 Spec:
Voltage 14-75V (3-16S safety)
Size :78mm×59mm×32.5mm
Current:continuous current 50A,Instantaneous current: 160A
Support sensors: ABI, HALL, AS5047, AS5048A
EPRM: 150000
Regenerative braking;
Input source: PPM, analog, NRF NYKO KAMA NUNCHUCK;
Communication ports: USB, CAN, UART;
Motor wire: 12 AWG
Power cable: 12 AWG
Feature:
Support BLDC square wave mode control and FOC sine wave mode
The CPU adopts STM32F405 with a main frequency of 168MHz and a Cortex-M4 architecture with DSP function;
High current 75V Infineon mosfets in 6 Directfet packages;
Three high-power, high-precision copper current sampling resistors are used to directly measure the three phases current to achieve FOC control and overcurrent protection;
Use TI's UCC272XX series of high-current output gate drivers to drive 6 MOSFETS;
Use three 470UF withstand voltage 100V electrolytic capacitors to ensure the stability of the system under high current drive;
Support with Hall, without Hall, with sensor, and without sensor;
Throttle curves and slopes of all input sources, seamless four-limit operation, count of motor revolutions, ampere-hours, watt-hours, real-time data analysis and readout through the communication port;
The digital VCC and analog VCC are generated by different voltage regulators, which makes the system's AD conversion more accurate;
With the host computer tool software, it can automatically measure the winding resistance, inductance, flux linkage, and also measure the number of pole pairs and other parameters for the motor with sensors;
Adjustable protection measures: low input voltage/high input voltage/large motor current/high input current/over-temperature protection (MOSFET and motor);
High regenerative braking current (separate limit for motor and input), high RPM (different limit for each direction), nearly one hundred setting parameters can be changed through the USB port using the host computer software VESC_TOOL and kept in the ESC;
Wiring Diagram :
Spec:

Model type: 66112
Motor dimension: 66*112mm
Maximum power: 3kw
C

ontinuous 

2kw 
Motor stator slot: 12
Shaft:10mm
Motor pole: 8
Motor KV:130KV
Motor Wire: 12AWG wire
Maximum voltage: 14S
Maximum current 70A
No-load current: 2.2A 10V
Waterproof level:IP68
Weight:1.4kg
The thrust under the condition of reaching this voltage and current as below:
48.5v 2.7A 5kg
48.5v 8.2A 10kg
48.5v 18.2A 15kg
48.5v 20A 17kg
48.5v 25A 19kg
48.5v 30A 21kg
48.5v 35A 23kg
48.5v 40A 24kg
48.5v 51A 27kg
Drawing:
Spec:
Weight: 1.4KG
Max Power: 5000W 
Motor KV: 140
Motor Wind: 9
Idle current: 1.9A at 10V
Motor Resistance: 0.031Ohm
Motor inductance: 77uh
Max. current: 100A
Battery type: 4-14S

Recommend ESC: VESC6

Torque: 10Nm
Diameter(mm): 63.4
Length(mm): 103
Total length (mm):135.5(including shaft)
Shaft(mm): 8mm/10mm with keyway 
Bullet connector: 4mm
Motor Diagram:
Group T5 DIY Electric Skateboard Double Kingpin Trucks and Motor Kits (Dual Drive)
1*12"Double Kingpin Trucks(front and back truck)
1*motor mount mount (pairs)For 12" kingpin trucks 63 series random option
1*Honeycomb Wheels(included 4wheels and two belts)
2*Flipsky Battle Hardened 6354 or 6374 Motor With Pulley( 10mmD-shaft motors-99mm length)
Remarks:
all these parts in the kit are unassembled when shipment.
Reference video:
Smart Screwdriver Description :
FS-ES126 is a MCU based on STM32, equipped with high-definition OLED digital display, supports Type-c interface 5V power supply and firmware upgrade. The three LEDs on the front are illuminated at close range, allowing users to use and comfort in dark environments. FS-ES126 is a smart screwdriver with multi-directional angle sensing. At the same time, it is a smart screwdriver that is illuminated, and can also be used in manual mode.
Product parameters :
| | | | |
| --- | --- | --- | --- |
| Operating voltage | 3.3-5.2V | Shell Material | 304 Stainless steel |
| Charging voltage | 5V | Mater Control | STM32 |
| Screwdrive bit | 4MM INN Hexagon | Screen | OLED |
| Charging time | 40 min | Lighting | LED |
| Running time | 60 min | Battery | 320mAh |
Packing List  

1 x FS-ES126 Smart Screwdriver
24 x Screwdriver Bits
1 x Manual Handle
1 x Instruction Manual
Product detail: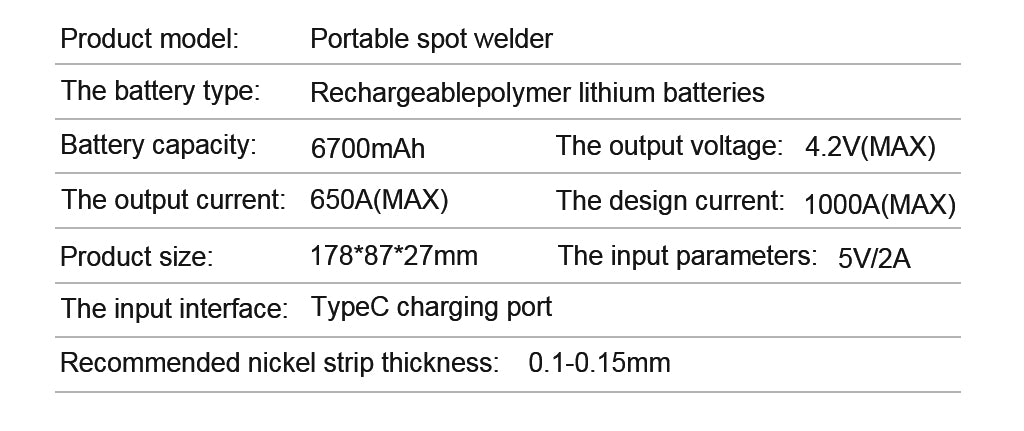 Reference video: